Riding the Dragon in North Carolina and Tennessee, Spring of 2011 with Dennis and Sue Bible from Alaska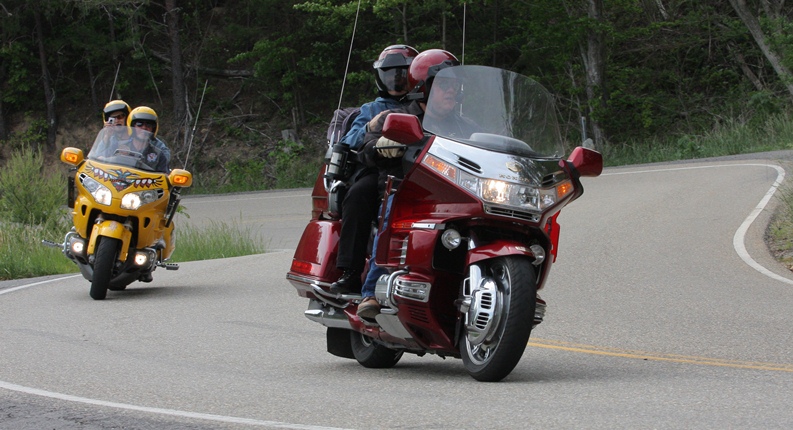 The 87 foot long rig at the Road Atlanta track with the Wing in the back along with 4 race cars. Right - Randy and Dennis at Deals Gap ready to ride the Dragon
The following pictures are road shots of the Southwest - a wonderful place not only to ride, but also to take magnificent pictures because of all the many days of sunshine.
When you look in your mirror and see a view like this - left - you stop and take a picture like this - right. This is, of course, Monument Valley in Utah.
When you travel to Colorado through Utah you often stumble on some of the greatest scenery and most unique events. Monument Valley is always grand and the little town of Bluff, Utah shown here with hot air balloons at Twin Rocks, is a super stopover.
Zion National Park in Utah is a great place to ride through. Don't miss the IMAX movie at the west end of the park. It is great.
Bryce National Park just east of Zion is higher in elevation and much cooler in the summer. A different view around each corner. A little north of Bryce is Capitol Reef National Park.
The Goosenecks is a little state park that is little more than a small parking lot with a view of the San Juan river below winding through the canyon. Just north of Goosenecks the pavement ends at the bottom of a 1,100 foot rise called the Moqui Dugway. This 3 mile dirt road leads to the top at the overlook near Cedar Mesa. Double click on the right picture and find the two riders from Germany halfway up the hill. I hope they never pave this road. It is great.
Arches National Park is north of the Moqui Dugway and the nearby little town of Moab has become a great place for 4x4 rock crawling and bike riding. The West is like this around every corner. Lots of color and sunshine and great things to do. At the right we are back in Colorado at one of the most photographed locations in the state, Maroon Bells outside Aspen. September in Colorado is always beautiful.
When you travel by motorcycle in Colorado in September you need to be ready for ice on the bike cover in the morning until the sun hits the parking lot. You also need to be prepared for snow on the high passes like the right picture at Red Mountain Pass between Ouray and Silverton.
Left is a view of The Black Canyon of the Gunnison north of Ouray. Right is McClure Pass a little southwest of Aspen. Note this is our first red Wing - the 1992 - then below left is the second Wing, the 1999. We purchased both bikes seven years apart from the same friend. Dave is a "keep-it-superclean-nut" like me and he kept everything he owned absolutely spotless and perfectly maintained.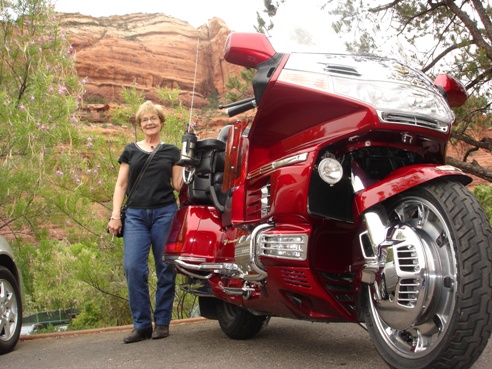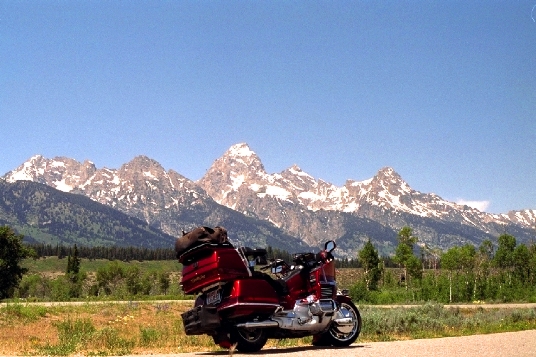 Above left is a little box canyon in Sedona at a place called Enchantment Resort. This is one of our favorite breakfast rides - one of the few at a 5 star resort. We can't afford to stay there but we can afford their breakfast. On the right is, of course, the Tetons north of Jackson Hole, Wyoming. We have been through this area several times - this time on the way to Canada a few years ago.
After the Tetons we headed north and went through Glacier National Park on our way to Waterton and the Prince of Wales hotel in Canada. Click on the link below to see where this motel is located. http://icons-pe.wunderground.com/data/wximagenew/d/Darby/20.jpg
We had planned this grand hotel as the special event of the trip. Over $200 American for a waterfront view room. I had never paid that much for a room before (or since), but we decided to splurge anyway. When we got there we were in a 5th floor dormer room that was like a big broom closet. But the view from our window was great. The next day we found out we could have stayed in town (in the middle of the right picture) for $85 American. Oh well - such is life when you plan hotels over the internet.
---
Selected quotes shared by a site visitor - Wisdom on two wheels
1. Always replace the cheapest parts first.
2 The only time you have too much fuel is when you're on fire.
3. Keep looking around. There's always something you've missed.
4. The only good view of a thunderstorm is in your rearview mirror.
5. If you don't ride in the rain, you don't ride.
6. If you can't ride in a little dirt, you can't ride to Alaska. (mine)
7. Sometimes the fastest way to get there is to stop for the night.
8. Always back your bike into the curb, and sit where you can see it.
9. Winter is nature's way of telling you to polish your bike.
10. Keep your bike in good repair: Motorcycle boots are NOT good for walking.
11. Don't argue with an 18-wheeler.
12. Bikes parked out front mean good chicken-fried steak inside.
---
Thanks for visiting our site. Check back every 6 months or so as we will be adding to the site as our riding continues. That's It. RETURN TO HOME PAGE