This collection of old pictures shows some of the story of our motorcycles.
43 years ago, 32 motorcycles ago, 1450 cc's ago, and 50 pounds ago. My first motorcycle purchased used from the Navajo reservation at Fort Defiance, Arizona for $25. A little black 50cc Honda street bike. My father-in-law, Larry Lee, found it for me. In the picture is a friend of Larry's, Don. He is riding one of Larry's Trail 90's with a 68 tooth rear sprocket. No high/low range back then. Yes, we rode this bike double in Texas at low elevation and on the road.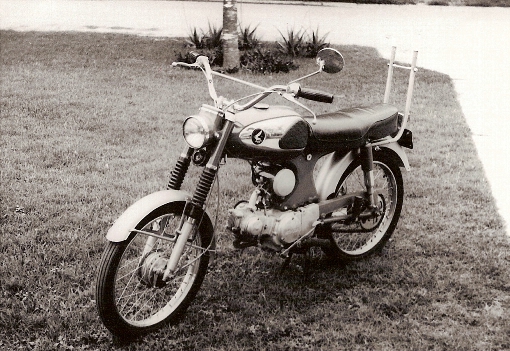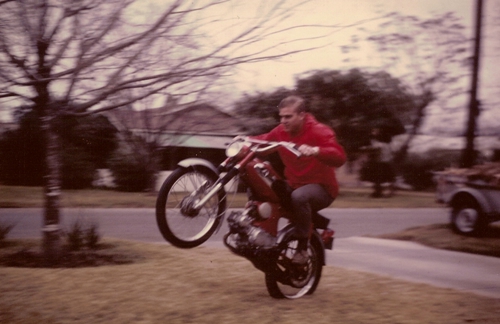 The second motorcycle. This 90 was also purchased used on the Navajo reservation. Larry found it for $75, crated it up and freighted it to me in Texas for another $25. This website is called ride2up. Note the beginning of a passenger backrest on the left picture. The right picture is after I fitted a 68 tooth rear sprocket which required a smaller rear sprocket to mate to the 68 tooth.
Bike #3. Purchased new from a dealer in Brownsville, Texas. This is my first daughter, Kimberly in 1970 at the Navajo reservation visiting Susan's parents. Note there is no snow in the left picture. It then snowed over night, hence the second picture the next morning. We rode all over the reservation that day in the snow and had a blast. Everyone thought we were crazy. A year later I gave this bike to a missionary who took it to Puerto Rico. It's probably still there and running.
The reservation was a great place to ride in the early '70's. Note the "Visor View" visor with rear view mirrors on my helmet. If you watch your old movie "On Any Sunday" you will see Malcolm Smith wearing this type of visor. The hogan in the right picture is real - just abandoned.
Randy, Larry and a friend of Larry's, Joe headed out for a serious ride up into the San Francisco Peaks in Flagstaff, Arizona. Yes - that is a CL350 Honda Joe has and he rode right alongside Larry's trail 90 and my SL90.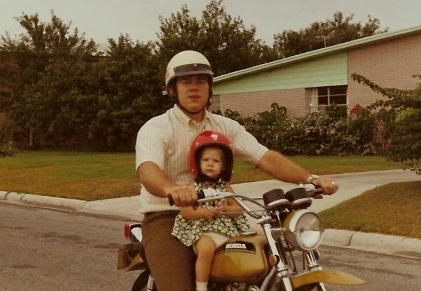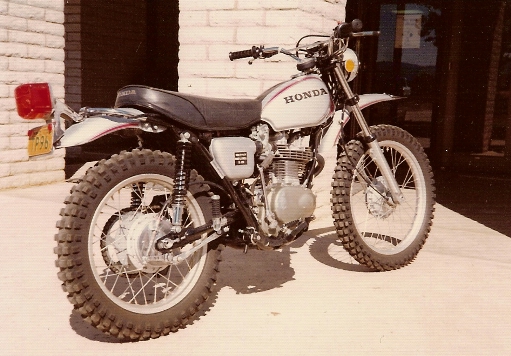 Above left is one of many SL125 demo bikes I rode when I was working with a Honda dealership in Texas. I had several of these bikes after they came out. Again, Kimberly riding double. We didn't actually ride here - just posed - I always used a safety harness and waist strap with the girls when they were little. Don't you love my half helmet. Above right was my first XL250. This was the first dirt bike we could really ride double in some comfort.
---
Please excuse the color on the next 12 pics. They were taken 32 years ago with film - made into prints - placed in a photo album - then I scanned the faded 32 year old prints.
In September 1975 we trailered our 250 from Prescott to Cortez, Colorado. We strapped on three small softside suitcases and rode the highway up past Trout Lake to Telluride. We were going to ride over Imogene Pass to Ouray until a policeman heard about our idea and found us and told us no one had come over the pass all summer. So we rode the pavement around and stayed in Ouray.
The next morning we left the suitcases in the motel, changed the countershaft sprocket down 3 teeth and headed up Imogene. Above the Upper Camp Bird Mine we saw the place that blocked the road all summer long. I left Susan at the location of the left picture and rode into the snow, right picture, and gave up. This section of road had a 20 foot high wall of snow when they tried to open it in June and July. They just gave up and left it closed that year.
The following day we rode up the Red Mountain side of Black Bear, over the top and headed down Black Bear towards Telluride. Above the "steps" Susan stands with the bike, then she takes my picture on the steps. We have been over this pass a dozen times and I have only been able to ride the steps two-up one time. That was in September after a dozer had cleaned the road during the summer. It is normally just too dangerous.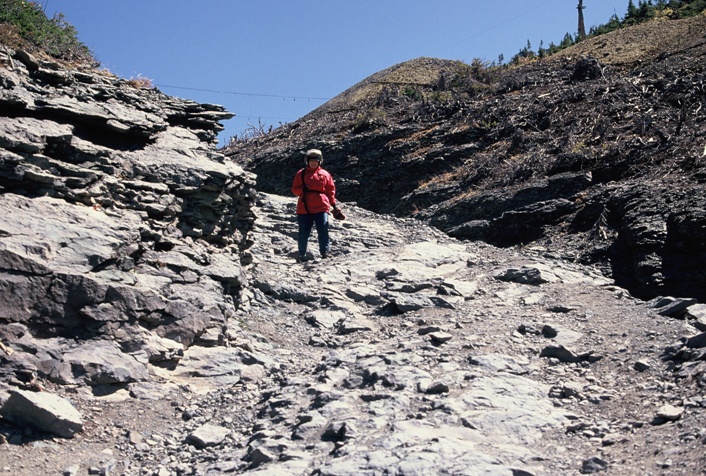 I pulled this picture out from the next decade to show you why people call this area of Black Bear pass the "steps". Even this picture looks too level. This incline is one of the steepest and roughest of any around other than Poughkeepsie Pass on the Engineers Pass road. The year this picture was taken there were hardly any loose rock on the steps.
We then rode to the top of Imogene from the Telluride side. Imogene is the highest drivable pass in the San Juans at 13,114 feet. Then we went back into Telluride and around to Ouray on the pavement. The next day we put the highway countershaft sprocket back on and rode to Silverton, Durango and back to Cortez. We never tried this again even with the newer 500.
The Honda Trail 90 became a regular in our small group of bikes. This early 90 had the original front suspension. We have probably owned 6 or 7 of these. When the girls were 9 and 11 I taught them how to ride on a Trail 90. It was so easy with the automatic clutch. We had a dozen other 100cc, 125cc and even a 250cc that the girls rode. Some were cheap basket cases that took three bikes to make two.
In 1979 I bought this 1978 Yamaha 500 used. I still have it. I put a 23 inch front wheel on it after Honda came out with their 500 with the 23 inch. I added air assist on the front end, new Fox shocks on the back and welded frame mounted footpegs on for the passenger. What a difference. We have been over every road around Ouray, Telluride and Silverton, Colorado with this 500. RETURN TO HOME PAGE