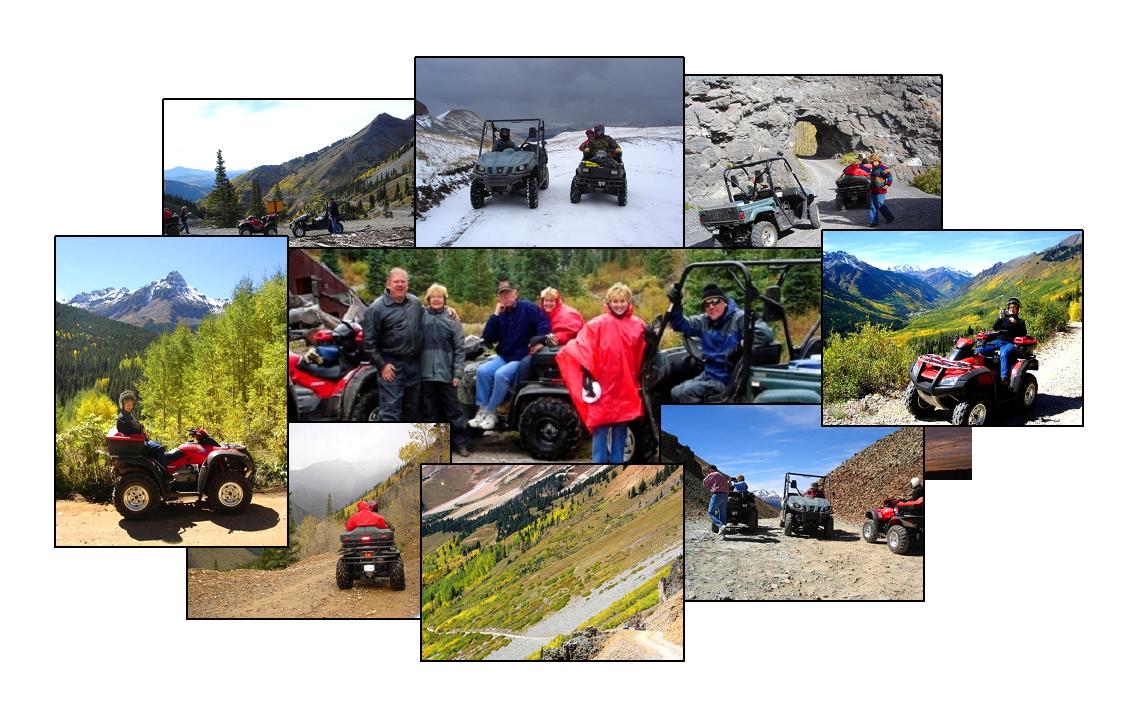 Click Here for Ouray Quad video
The left video above is footage around Ouray, Colorado during Fall Color Week up Yankee Boy Basin and then west of Ridgway, Colorado on Last Dollar Road. The right video is up Ophir Pass south of Telluride, Colorado and up the Imogene Pass road which starts right downtown Telluride.
---
Fall 2010 - 12,000 feet over California Gulch and (right) the road up to Clear Lake near Silverton
Beautiful day headed to Clear Lake
Clear Lake with relatives and snow then headed back down

Dallas Divide near Ridgeway at full Fall color, late September

________________________________________________________________________

The following posting was done daily on a Fall trip in 2007. We carried a laptop with us on the GoldWing and made postings with WiFi from each motel each evening. I will leave all script as it was originally posted.
Hi - Selah, Tessa, Darin, Noelle and Micah. Wednesday - Sept. 26 - We left Prescott, Arizona this morning by 8 am and arrived in Cortez, Colorado at 6 pm. We stopped one hour in Cameron for breakfast and walked over to the Colorado river next to the trading post.
The river has a good flow because of a storm just last Saturday. We then stopped at the Navajo National Monument 20 miles west of Kayenta and walked about one hour to two different vista points. It takes a two hour walk to the bottom to get to the old cliff dwellings and can only be done with a park ranger leaving at 10 am each morning.
This canyon has a small aspen grove at the bottom and can only be hiked with a park guide.
If you double click on the pictures above you can see a more detailed view of the cliff dwellings at the bottom inside the arch.
Good morning. It is Thursday, Sept. 27 and we will be leaving Cortez soon and meet up with the relatives and the quads at the little town of Ophir just south of Telluride. The next pictures will be of those quad rides.
Thursday - Sept. 27 - This was meet day in Cortez, Colorado. John got to Cortez earlier than expected so we met in Dolores instead of up at Ophir.
At a gas station in Dolores we posed with three sisters and three brother-in-laws (I am behind the camera). One Goldwing from Prescott - one truck with quads from Cottonwood and one Land Rover from Dallas. Above right some bikers stopped to take pictures of Trout Lake and I promised to post their picture - here tis.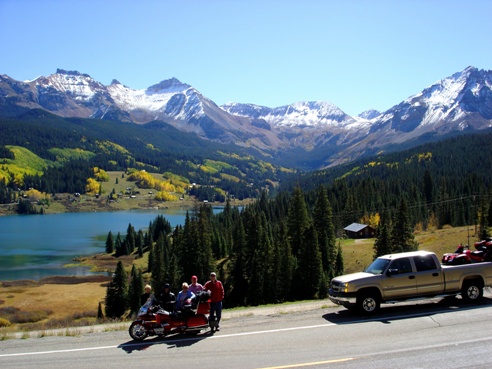 Trout Lake again with Susan, Jan, Paula, John and Ken.
We unloaded the two quads and the side-by-side Rhino at the dirt road that leads up to Ophir Pass. Susan and I rode the Honda 650. John and Paula used the Polaris and Jan and Ken drove the Rhino. Susan shoots some video will I take her picture.
The three sisters at the top of Ophir Pass. Three grandmothers with a total of 14 grandkids. Is this what grandmothers usually do on vacation? And a great view of the valley looking west taken on the way down.
After the Ophir Pass ride we loaded up and drove to Telluride - unloaded again and headed up Imogene pass to the Tomboy mine. Halfway up, stopping for a picture in the dust. We were covered when we got back into town. Those quads kick up a cloud. Above right is a shot from Imogene Pass road of the famous Black Bear road and Bridal Veil falls. Susan and I have ridden Black Bear many times on the old Yamaha 500 dirt bike. It is a favorite of many off road bikers and Jeeps.
---
Good Morning - It is Friday - Sept. 28. Yesterday afternoon we loaded up and drove from Telluride to Ouray before dark. We saw 25 elk in a field and then 2 small buck deer walking in town when we got to Ouray. We have a few clouds today and a slight chance for isolated showers. We will head up Yankee Boy Basin after breakfast. Here is the little River'sEdge motel we are in.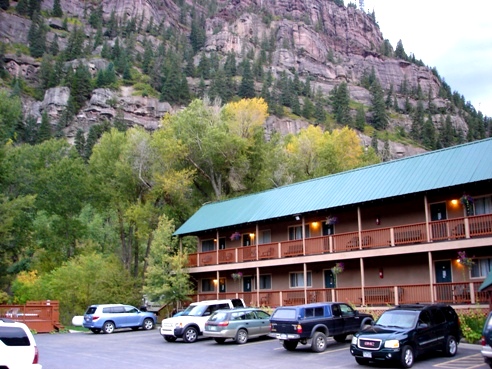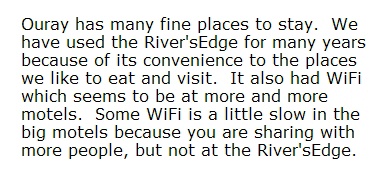 ---
It is nice to have a wireless laptop to check the weather before a ride, but it still does not make the weatherman any more accurate. We waited out a light rain storm at the motel and then just decided to suit up for rain and go. Four miles up Yankee Boy Basin and still in the sun, but look up ahead.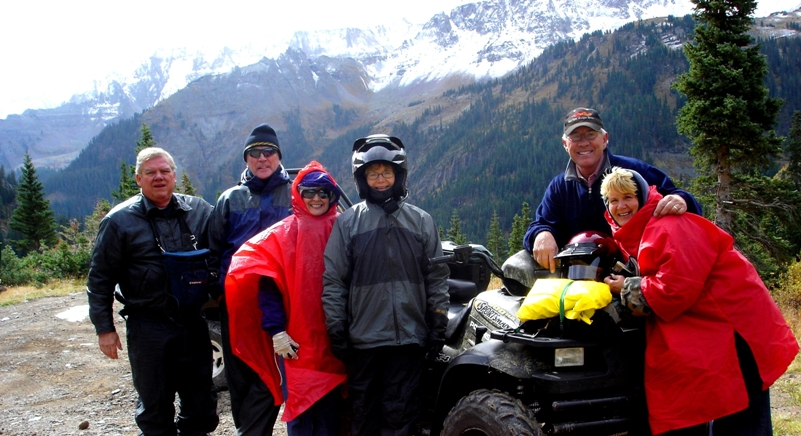 Riding quads on a stormy day is not a fashion statement. 11,000 feet up Yankee Boy above Twin Falls.
I continued to be amazed at the capability of the Yamaha Rhino. It would go anywhere. Above left at 11,500 feet and right at 12,000. My Honda 650 was sputtering trying to breath (last of the carb models).
At the top of Governor's Basin John and Ken stopped for some unknown reason, which usually means a potty stop or the sighting of animals. There were 6 deer on the side of the mountain at 11,000 feet. We saw more deer on this trip than we usually do. Normally we see more elk than deer. See if you can pick them out in this right picture. (double click on the picture)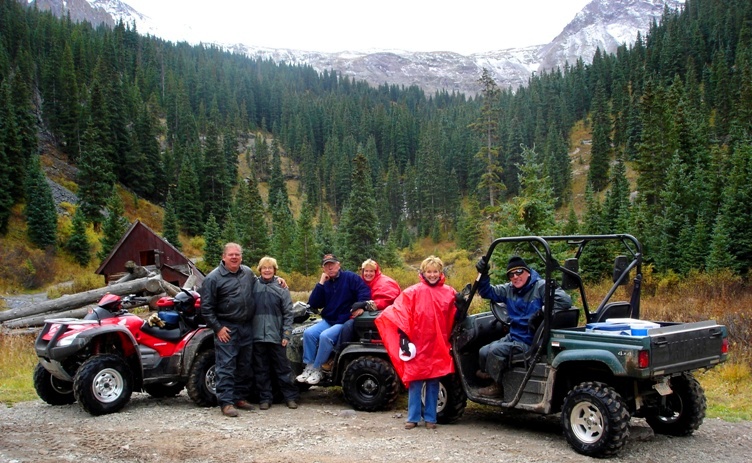 We came down to the turnoff to the Imogene Pass road. We went across the stream and up towards the Upper Camp Bird mine. Paula was running low on oxygen (she has breathing problems at high elevation) so this was our turnaround point. Who took the picture? These guys.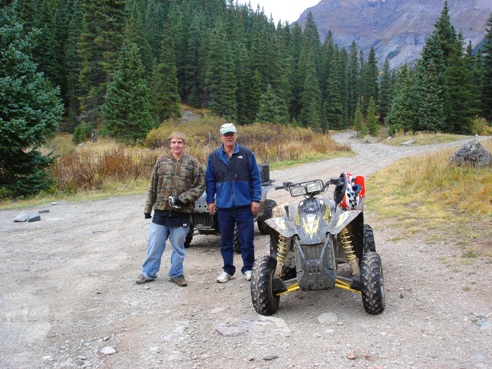 Father and son from Colorado Springs. I believe it was Dean and Jake. If these are the wrong names - please call me at the phone number on the card I gave you and I will correct this posting info. (We gave them a candy bar as a thank you).
Our last photo stop for the day at the Yellow Rose Waterfall. And of course John and Ken had to go play in the water.
---
We got back into Ouray around 3:30 and cleaned up a little, then the ladies went shopping and we guys headed up the Amphitheater road riding single and going for broke.
The left pic is the end of the road up against the rock face. The meadow above right would be a great little camping spot with the aspens and tall grass.
After coming down the very rough road very fast we cleaned up again and went for dinner at the True Grit Cafe in Ridgway, named after the John Wayne movie by the same title.
---
It's Saturday morning and a storm has moved in. We will head towards Silverton in the trucks and on the Gold Wing as planned and see what the day brings for off road riding.
---
In Silverton all three couples had breakfast at the great little Brown Bear Cafe and Jan and Ken decided to head towards Dallas a day early because of the weather. John, Paula, Susan and I decided to stay and check in to the little motel and wait out the storm. After checking the internet weather we decide to take the quads up north of Silverton, unload them and ride in the rain/snow. Forget about the weather.
Headed up Stoney Pass the road turned white at about 11,500 feet, but we continued on. That's Susan in the Darth Vader suit in the Rhino. On the way up we ran into three Jeeps coming down who were friends of John and Paula from Cottonwood. Small world. John knew they were in Colorado somewhere, but we actually ran into them in Silverton before we left on this ride.
At the top John and Paula posed with Stoney Peak in the background and when we turned around to head down it was white all around. Susan and I were now trying out the Rhino. She said it was a nicer passenger ride than the quad. I will take her word for it.
The top of Stoney is bare of trees as most passes are at 12,000 feet. Below snow line we ran into John's friends again taking a coffee break.
It is a lot warmer below snow line and we continued back into Silverton. Something happened to the Rhino and it began to run badly and felt fuel starved. It would idle great but would not rev up. Luckily we were only a few miles from the truck and trailer. Not so lucky for one of John's friends. This flat tire was not from a nail, but from playing around some big rocks a little too aggressively.
Sunday morning and the sky is blue with no clouds and no wind. John and Paula have decided to head home. With the quads loaded up, Paula takes our picture in Silverton at the motel.
They leave before us so they can drive all the way home today. We decide to take an extra day getting home and just take our time. On the road from Silverton to Durango we stop for a roadside picture or two.
Molas Lake south of Silverton is always a great picture location. We then rode to Durango, Cortez and over to Bluff, Utah to settle in for our last night out. Tomorrow we will ride through Monument Valley to Mexican Hat for breakfast.
Last day - headed home. Woke up to sun and nice weather - but it changed big time 40 miles down the road. Rode to Mexican Hat for breakfast and then rode in 100 miles of rain on the way to Flagstaff.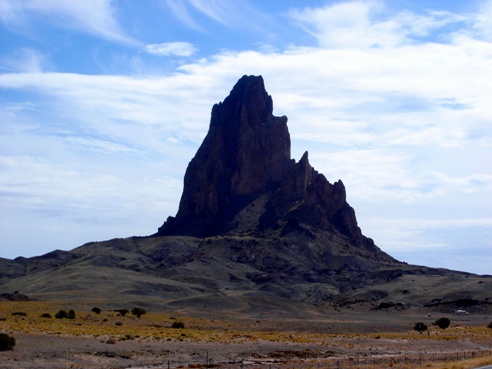 Above left we parked at the cafe at the San Juan river. We backed up to this spot to get away from the cliff above. Below this picture view is a large sign that says, "Watch for falling rocks". Then we rode through Monument Valley. No really good pictures because it was very cloudy. If it had not been cloudy it might have looked like this - (from 2006 trip).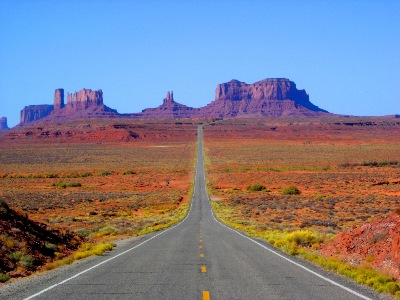 Hope you enjoyed our trip. Please visit our other pages when you have time. RETURN TO HOME PAGE